• Plantspedia Answers • What is a plant? • Plantspedia Most Wanted list • Unidentified species • Userbox • Wikianswers – Plants
News
Below is a list of events that occured on August 15:
Template:News/August 15 Have any botanical information on events that occured on August 15? Click here to add it.
Featured article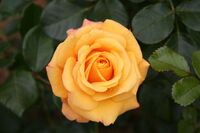 Rosa, known also as the roses, is a genus of perennial flowers, shrubs, or vines in the Rosaceae family. The genus contains over 100 species that come in several colors. These plants form a group of shrubs, with stems that have sharp prickles. Most are native to Asia, but some are found in other continents such as Europe, North America, and Africa. Cultivars and hybrids are often created due to the beauty of the flowers.
read more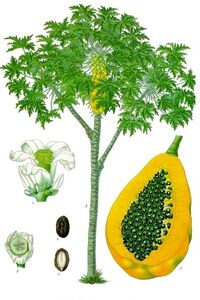 Carica papaya (papaya, papaw, pawpaw) is a species of flowering plant in the Caricaceae family, as the sole member of the Carica genus. It is endemic to the tropics of the Americas, and was first cultivated in Mexico several centuries before the Mesoamerican classic cultures emerged.
read more
Featured image
See details...
See details...
Weekly Poll
Create an article
If you want to create a new article, use the box below or Special:CreatePage.
<createbox> width=24 break=no buttonlabel=Create new article </createbox>
Related communities
Cactus Wiki
Cactus Wiki is an online collaborative community that focuses mainly on cacti. In addition to adding articles about cacti on Plantspedia, add them to Cactus Wiki as well. Taking information from Cactus Wiki for articles on Plantspedia is also suggested. Cactus Wiki started July 24, 2007, and already has 69 articles.
Fossil Wiki
Fossil Wiki is an online encyclopedia about organisms that had gone extinct and been preserved as fossils. When making articles about fossil plants, it is suggested to also add them to Fossil Wiki, and visa versa. Fossil Wiki started on January 5, 2009, and has over 5000 articles!
Gardening Wiki
Gardening Wiki is an online community that provides information about gardening and horticulture. Articles on the wiki include plants used in gardening, as well as horticultural and gardening techniques and tips. When making articles on Plantspedia about garden plants, you are encouraged to also add them to Gardening Wiki. The wiki started May 2008, and already has 101 articles!
Orchids Wiki
Orchids Wiki is a wiki that focuses on the several thousand species of orchids. When an article about an orchid is made on Plantspedia, it would be helpful to also add it to Orchids Wiki. Since Orchids Wiki has several articles about orchids we don't have, it is also recommended to add some of these articles on Plantspedia. The wiki started December 7, 2007, and now has over 4000 articles!
Parasites Wiki
Parasites Wiki is an online encyclopedia that includes information about parasites throughout the world. Due to having parasites in each kingdom, members of Plantspedia are encouraged to add articles about parasitic plants onto Parasites Wiki as well. Parasites Wiki was created July 2010, and has 12 articles.
To see more of our affiliates, click here.