Ryania speciosa
Conservation status
Taxonomy
Kingdom
(unranked)
(unranked)
(unranked)
Order
Family
Genus
Species

R. speciosa

Naming and discovery
Botanist
Ryania speciosa is a species of flowering plant in the Salicaceae (formerly Flacourtiaceae[1][2][3]) family. It is native to Colombia.[citation needed]
It is a shrub or tree. The leaves are ovate. Its flowers are white in color.[4]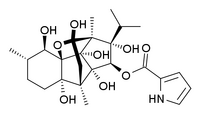 The plant contains the poisonous alkaloid, ryanodine (C25H35NO9), which was once used as a insecticide.[5]
This list may include synonyms.
References
Edit
Community content is available under
CC-BY-SA
unless otherwise noted.